In a growing child with narrow upper jaw, a dentist will often give an expansion plate to be worn for several months. This appliance is designed to broaden the upper jaw in order to create more space and correct certain bite problems, such as a cross bite. This growth modification treatment in kids is particularly useful as an expansion of adult's jaw often requires a surgery. The appliance needs to be activated for the specific amount as instructed by your dentist and then retained in the mouth for several months to hold the expansion. This plate can be used in combination of other appliances such as braces or headgear to correct other problems in the mouth.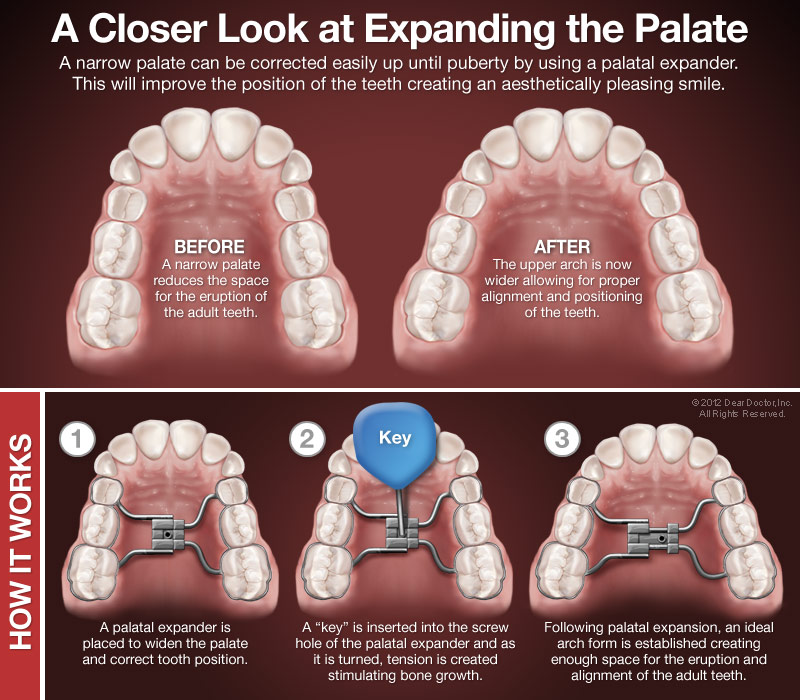 How to activate the appliance.
The activation of this appliance will be done by a supervising adult, usually the child's parent.
An activation of the appliance is recommended at bedtime so by the next morning, the pressure from the turn is gone.
Place the key in the hole of appliance, towards front teeth.
There is an arrow on the appliance pointing in the direction the key should be pushed.
Push the key completely towards the back of mouth until it stops and the next hole can be seen fully in front of appliance. The next hole will not be visible unless a full turn is made.
Remove the key carefully so the new hole for the next activation is completely visible.
Hygiene
Brush the appliance including the metal bars & screw in the same way you brush your teeth.
When you are unable to brush after eating, use water to swish around in your mouth to help dislodge any food particles.
Once a week, rinse your mouth with chlorhexidine mouthwash (Savacol).
Diet
At first, eating will be more difficult; take small bites & eat soft foods until this is overcome (usually a few days to a week). After that, you should be able to eat almost everything you did before with some exceptions.
Avoid sticky and hard foods.
Speech
Your speech will be affected. This is not permanent.
Soreness
Your teeth may be sore for the first few days. To help with this you may want to take what you would normally take for a headache; however, chewing & talking are the best ways to get your mouth used to this new feeling.
Your bite will feel off
As the palate expands, the teeth will not fit together properly. This is normal.
Space between your front teeth
Space may appear between your front teeth. This will resolve by itself or can be closed with orthodontic braces as part of the treatment.
Potential problems
Please turn appliance as instructed. Do not continue to activate the appliance beyond this time. If you complete the required number of turns before the next appointment, simply discontinue the turning.
Turning the screw too many times may uncouple the appliance.
If the expander becomes loose, please contact our clinic so the appliance can be recemented.​
​If you have any question, please contact our dental clinic on (03) 9908 2138