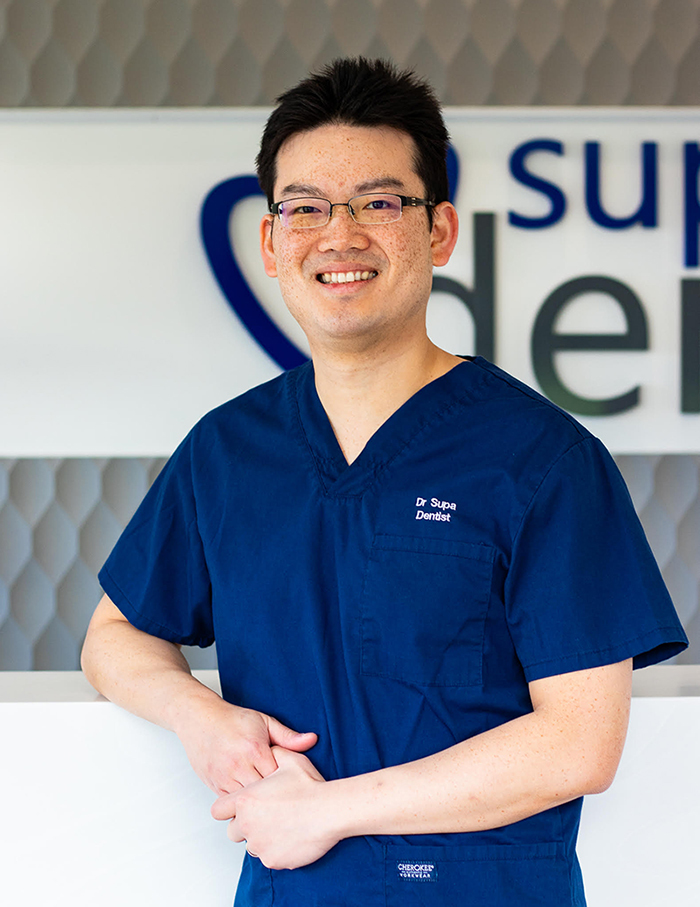 Dr Khachornwut (Supa) Supasiti
BDSc (Melb)
Dr Supa was born in Thailand and grew up in Melbourne. He loves the lifestyle in the countryside and spent the first 5 years working in Warrnambool, a regional town 3 hours South West of Melbourne.
Apart from meeting the locals, Dr Supa discovered that there is a gap between public perception of dentistry and what modern day dentistry really is. He is excited about showing patients how simple dentistry can be through preventative and conservative treatments.
Feeling dentistry is a perfect combination of art and science, Dr Supa loves dentistry with a passion and continually attend courses to expand his areas of expertise. He has special interests in cosmetic dentistry, orthodontics and endodontics.
A big advocate of education, Dr Supa enjoys talking to patients about how to look after their own oral health and helps them to make informed decisions. In 2014, he realised his dream of opening a dental practice in Melton to reflect his dental philosophy.
Dr Supa is registered with the Dental Board of Australia and is a member of the Australian Dental Association. Apart from working in his clinic, Dr Supa teaches in the Endodontic clinic at Melbourne Dental School.
Outside dentistry, Dr Supa likes skiing, exploring good brunch places around Melbourne and is a keen follower of British soccer.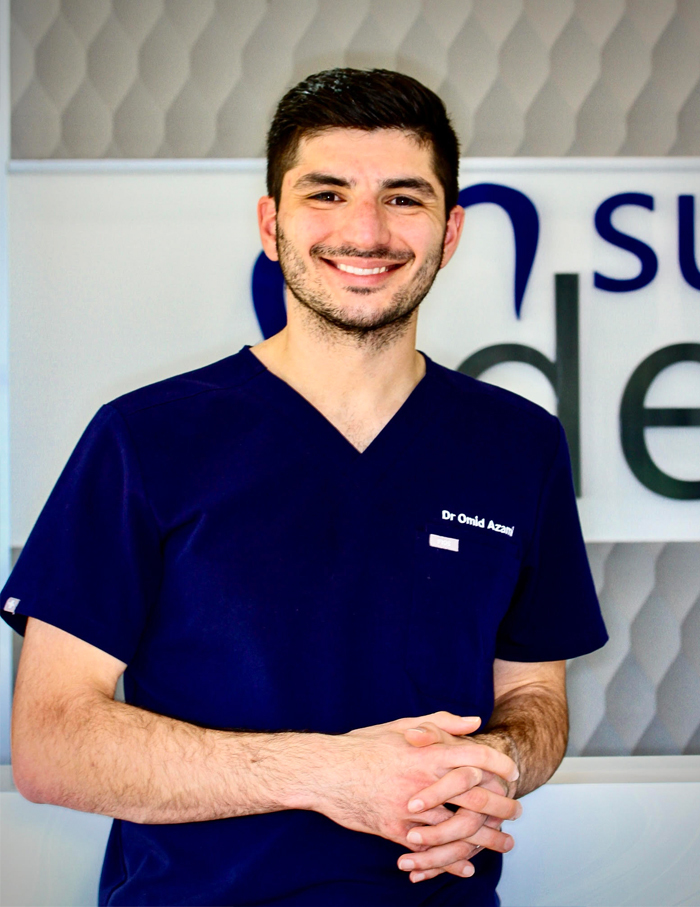 Dr Omid Azami
DDS (Melb)
Dr. Omid Azami takes great pride in his compassionate view of patient management. He believes that every patient has unique needs and tailors his treatment plans to fulfill those needs. Dr. Omid looks forward to building a trusting and long standing relationship with all his patients.
Dr. Omid grew up in Toronto, Canada. He completed his bachelor degree in Exercise Physiology at the University of Western Ontario before moving to Australia to study dentistry at the University of Melbourne. Dr. Omid enjoys all aspects of general dentistry and is committed to improving and learning new procedures through continuing education. He has special interests in Oral surgery and wisdom teeth extraction. Dr. Omid is registered with the Dental Board of Australia and is a member of various dental clubs and associations.
Outside of dentistry, Dr. Omid is a marathon runner, podcaster and (very) amateur chef!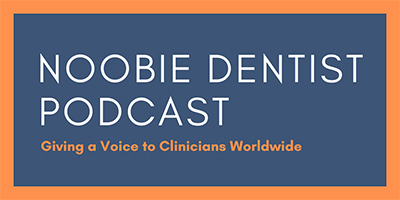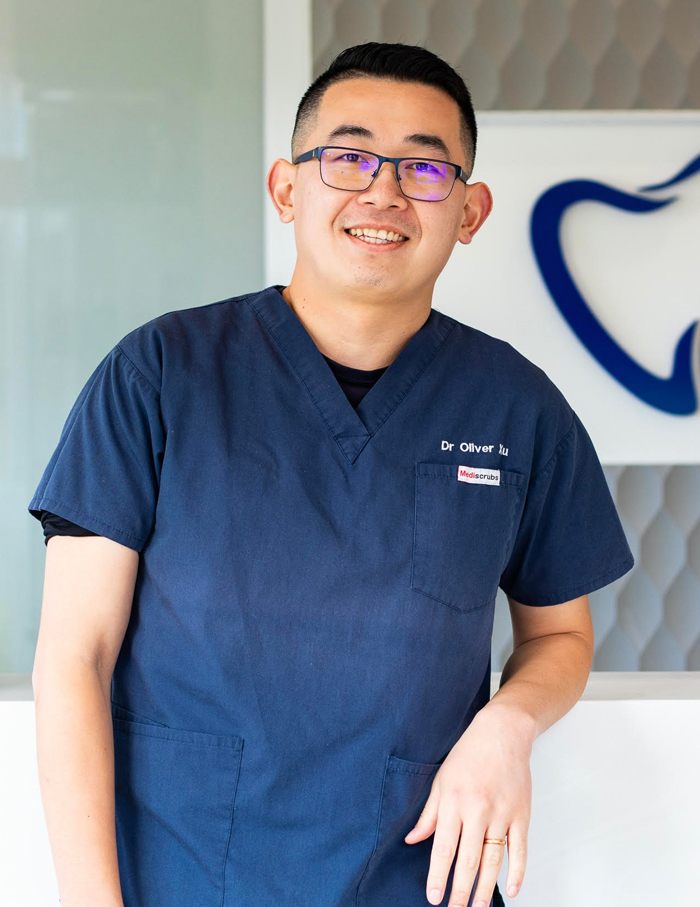 Dr Oliver (KangNing) Xu
BOH DSc (QLD)
Dr. Oliver grew up in Shanghai before moving to Australia in 2007. After completing his education in dentistry in Queensland, he has been working in Warrnambool, providing all aspects of general dental care.
Dr. Oliver is known for his friendly and caring manners as he aims to make patient's every visit as comfortable and stress-free as possible. In addition to working in the clinic, Dr. Oliver regularly attends courses and seminars to further his knowledge and skills – he has a special interest in Orthodontics.
Dr. Oliver is registered with the Dental Board of Australia, and speaks both English and Mandarin fluently.
In his spare time, Dr. Oliver enjoys spending time with his family and his dog Frankie the Dachshund, travelling, and dining out at the countless cafes and restaurants around Melbourne.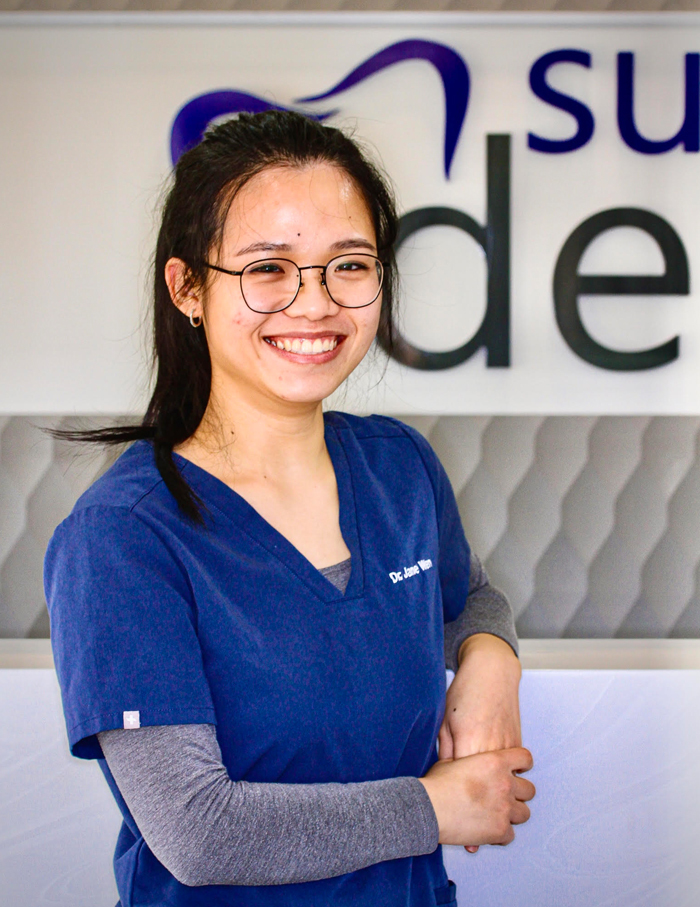 Dr Jane Wen
DDS (Melb)
Jane attained her Doctor of Dental Surgery degree at the University of Melbourne and has worked in both regional Victoria and metropolitan Melbourne. Growing up in the western suburbs, she has always wanted to give back to the Western community by providing dental care locally.
Jane enjoys all aspects of dentistry, from treating children, restorative, to preventive dental care. Her top priority is making sure that her patients are comfortable during the appointment and providing quality dentistry.
Jane is bi-lingual being fluent in Mandarin & English.
Jane has great interest in incorporating the latest technology in patient treatment and is dedicated to refining her skills through continuing education and further learning.
Outside of dentistry, you can find Jane travelling, trying out different cuisines and hitting the gym during her spare time!